The facts, and the sources:
Median Household Income has Dropped
From the U.S. Census report Income, Poverty, and Health Insurance Coverage in the United States: 2011 at census.gov:
Real median household income in the United States in 2011 was $50,054, a 1.5 percent decline from the 2010 median and the second consecutive annual drop.
And, looking back  prior to the Obama years:
In 2011, real median household income was 8.1 percent lower than in 2007, the year before the most recent recession…
40% of US Workers Living Paycheck to Paycheck
From Newsroom America, based on a August 2012 CareerBuilder survey, 40% of Americans are living paycheck to paycheck. An additional 35% sometimes live paycheck to paycheck. While this figure peaked late in 2008 at 46 percent, it is still an unacceptable high percentage.
The Employment to Population Ratio is a Lot Worse than Most People Know
From CNN Money, October 18, 2012:
Along with the official unemployment rate, the Department of Labor also calculates something called the employment-population ratio, which measures the percent of the U.S. adult population that has a job.

The rate currently stands at 58.7%. While it jumps around slightly from month to month, it has essentially been stuck there for three years — close to the lowest level since the 1980s.
So, the true unemployment figure in the US is about  42%.
The chart below is from the Republicans on the Senate Budget Committee:
From the Republicans on the Senate Budget Committee
And the Jobs Being Created are Mostly Low-Wage Jobs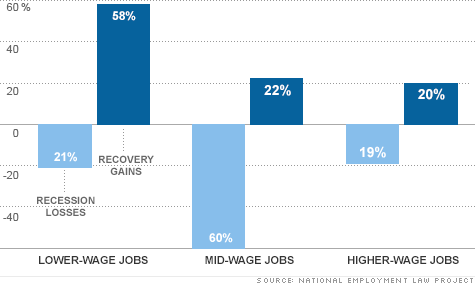 From CNN Money, August 31, 2012:
Some 58% of the jobs created during the recovery have been low-wage positions, according to a new report by the National Employment Law Project. Only 22% have been mid-wage jobs and 20% higher-wage positions. These low-wage jobs pay $13.83 an hour or less.

"The recovery continues to be skewed toward low-wage jobs, reinforcing the rise in inequality and America's deficit of good jobs," said Annette Bernhardt, NELP's policy co-director. "While there's understandably a lot of focus on getting employment back to pre-recession levels, the quality of jobs is rapidly emerging as a second front in the struggling recovery."
One in Three Americans are Paying Bills Late
From the Herald-News, April 4, 2012, based on a National Foundation for Credit Counseling.
More than half of adults nationwide — 56 percent — have no budget and one-third don't pay all of their bills on time, a financial literacy survey shows.

The survey…also revealed that 39 percent carry over credit card debt from month to month; two in five are saving less than they were a year ago and 39 percent have no day-to-day savings.
53% of 18-24 Year Olds Now Live with Their Parents & 85% of College Seniors Plan to Move Back Home
From Business Insider, September 12, 2012:
Student loan debt is rising — now enough to feed every homeless person in the country for 50 years — yet unemployment numbers among college graduates are the highest it's been in the past 11 years.

The solution?

It's becoming the norm for young people to move back in with their parents. In fact, 53 percent of 18-to-24 year olds are living with their parents, and 85 percent of college seniors plan on moving back home after graduation.
There's lots more, of course, but these are just a few of the facts. I may add a few energy-related facts in a future post.